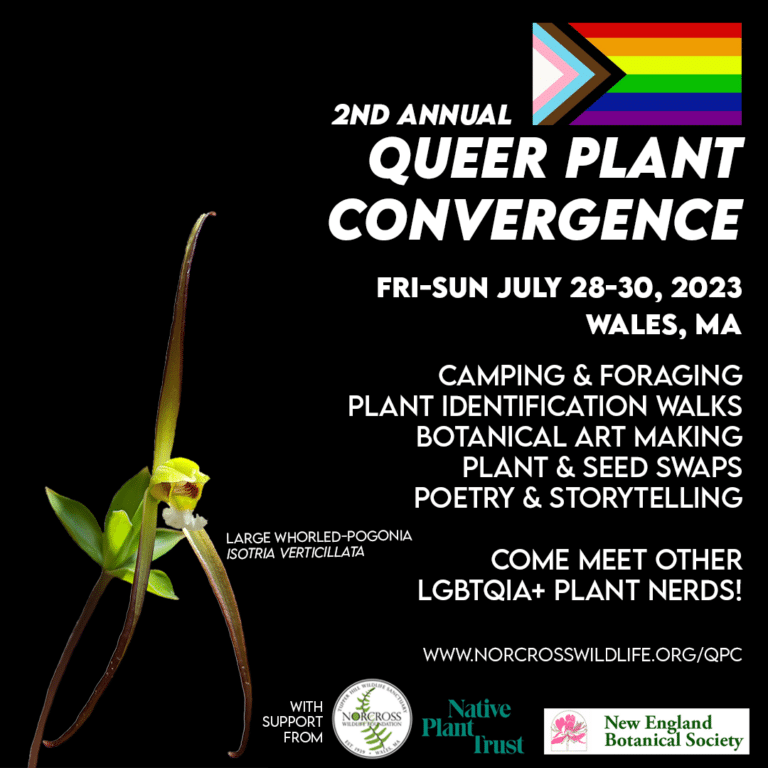 NOTICE: Registration for Queer Plant Convergence 2023 is now closed! Please click here to register for updates regarding QPC 2024.

Queer Plant Convergence is an annual weekend gathering which seeks to to bring together members of the regional LGBTQIA+ community who have a shared interest in wild plants and the environment. We welcome you whether you are newly plant-curious, wanting to start a career with plants, a passionate long-time plant lover, or a plant-engaging professional. The only requirement is that attendees respect each other, the land, and all of its non-human inhabitants.  
The goals of this event are to forge connections, establish a support network, and work towards promoting diversity, equity, anti-racism, and inclusion in the regional botanical community. We will explore the 2,000+ acre sanctuary; learn from each other about plant ID and the different ways of interacting with and appreciating plants.  
QPC 2023, our second annual meeting, will take place at Norcross Wildlife Foundation in what is now known as Wales, Massachusetts on the weekend of Friday July 28th, 2023.  
The event will run from the evening of Friday, July 28th into the afternoon on Sunday, July 30th. Participants can join for the whole weekend or a single day.
The schedule for QPC 2023 is in development, and may include activities such as:
Friday evening potluck

Botany & foraging walks

Group meals

Poetry, artmaking, jam session

Skill-shares

Plant & seed exchange (bring what you can!)

Group discussions

Camping
An official itinerary and order of events will be distributed to participants following registration.
Accommodations: attendees will camp onsite and have limited access to Norcross facilities. These facilities include bathrooms and a conference room. If you do not have access to a tent, sleeping bag, or sleeping pad, we will do our best to locate one for you to use (please indicate this in the registration form).
Meals will be provided during the event. There will be a potluck on Friday evening; continental breakfast, lunch, and dinner on Saturday; and breakfast on Sunday. We will provide a space for registrants to disclose allergies and dietary requirements in the registration form.
During registration we're requesting that people make a donation of $10-$30 to help us run this event and sponsor folks who would not be able to afford a registration fee. If you would like to participate but cannot donate, please contact queerplantconvergence@gmail.com to register.
 Registration for this event IS NOW CLOSED. Please sign up using the link at the top of this page to receive updates about QPC 2024.
Queer Plant Convergence 2023 Participation Agreement:
BY REGISTERING, YOU AGREE TO ADHERE TO THE FOLLOWING GUIDELINES AND RULES. PLEASE READ THEM CAREFULLY.
Participation Guidelines
These participation guidelines are intended to set standards for communication and behavior during this event, which we hope to make a safe space for queer plant enthusiasts regardless of age, race, gender identity, and otherwise marginalized group affiliation. We wish to foster an environment in which participants can be real about their lived experiences and authentic in their expression, and we would also like to maintain a laid-back and positive environment in which participants do not feel pressured to engage on terms to which they do not agree. As such, event participants are asked to adhere to the following guidelines: 
Engage with other participants in good faith and with kindness (assume positive intent);

 

Hold yourself to the highest standards of respect for the feelings and bodily autonomy of other participants, with special consideration for trans folks (who you may or may not be aware of as such) and black, indigenous, and people of color;

 

Do not speak for others;

 
Respect all asserted boundaries;

 

Verbally assert boundaries promptly as needed;

 

Take space as needed (quiet/private spaces will be designated for this purpose);

 

Ensure consent of all involved prior to questions or discussions about potentially sensitive topics (ask before you ask); 

 

Respect all abilities and skill levels represented at the event. Share botanical, ecological, and other specialized knowledge freely and gracefully;

 
Respect the privacy of other participants: what happens and what people say at QPC stays at QPC.

 
Rules 
By registering for the 2023 Queer Plant Convergence event at Norcross, you indicate that a) you are 18 years of age or older, and b) that you understand and accept the following rules, which apply to all participants, including event coordinators and Norcross staff present on Norcross property during the event: 
Instances of threats, bullying, coercion, or infliction of bodily harm during the event will not be tolerated, and anyone exhibiting such behaviors will be asked to leave immediately;

 

Participants may not destroy or appropriate Norcross property, including the grounds and its plants, buildings, vehicles, and other objects lent by Norcross to facilitate the event;

 
Participants may not destroy or appropriate property belonging to other participants;

 

This is a sober-friendly event. People may not participate inebriated, may not broadcast availability of alcohol or illicit substances at the event, and may not encourage or pressure others to consume alcohol or illicit substances during the event.

 

During the event, all participants must adhere to federal, Massachusetts, and local laws pertaining to the consumption and distribution of alcohol and illicit substances.